So it has come to my attention that not everyone likes a dense chocolate cake. Who knew? Being a die hard chocolate addict myself I assumed everyone liked chocolate cake like the one I made last year. I called it "The Best Chocolate Cake Ever" because, in my chocolate loving mind, it is. You see, to me, and fortunately to my husband, a truly good chocolate cake is so rich and dense and chocolaty that it stops just short of being a brownie.
For example, every time I get a chocolate dessert, I say "it's good but it's not chocolaty enough." Then finally, when we were visiting my parents in Bucks County, we went to a restaurant with some friends of ours. Since they were big time foodies, I always trust their recommendations and once again they nailed it.
The restaurant's pastry chef came from Le Bec Fin in Philadelphia. To clarify Le Bec Fin was a renown five star restaurant and Philadelphia's crown jewel. Wow! I had a chocolate tart that I described as, "It was fantastic. It gave me a headache." Now "The Best Chocolate Cake Ever" won't give you a headache but you now get the gist of exactly how extreme I can be.
Anyway, in the gluten-free world a huge complaint is the baked goods are too heavy. Over and over again I hear people gripe that the cake at this gluten-free bakery or that gluten-free bakery is OK but too dense. I realize I talked about this before but honestly it keeps coming up. So I'm devoted to making gluten-free cake that has that lightness that so many gf products are lacking. (See Yellow Layer Cake with Blood Orange Curd and Vanilla Buttercream and Light as a Cloud Angel Food Cake with Berry Topping) So in that spirit, I made a chocolate cake that is light but still incredibly chocolaty. After all, I am still me.
Sinfully Delicious Devil's Food Cake
Sinfully Delicious Devil's Food Cake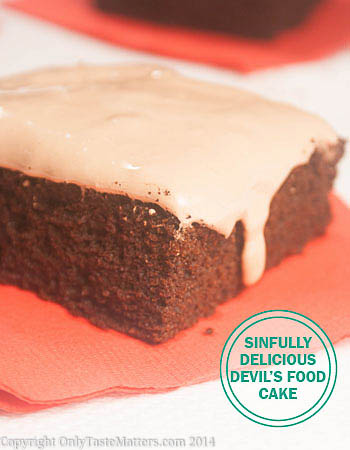 Ingredients
1 cup boiling water
1 1/2 cups unsweetened cocoa
1 1/2 cups dark brown sugar, packed
1 teaspoon baking soda
1/2 teaspoon kosher salt
1 cup vegetable oil
1/2 cup sour cream, at room temperature
2 large whole eggs, at room temperature
2 large egg yolks, at room temperature
For the Chocolate Marshmallow Frosting:
2 ounces unsweetened chocolate, cut into small pieces
3 large egg whites
1 cup sugar
1/3 cup light corn syrup
Pinch salt
Instructions
1. Position the rack in the middle of the oven and preheat the oven to 325 degrees.
2. Line a 9 x 13-inch pan with 2 sheets of parchment paper in a crisscross pattern. Make sure the parchment paper overhangs the edges of the pan so you can easily lift out the cake when it is done. Grease the parchment paper.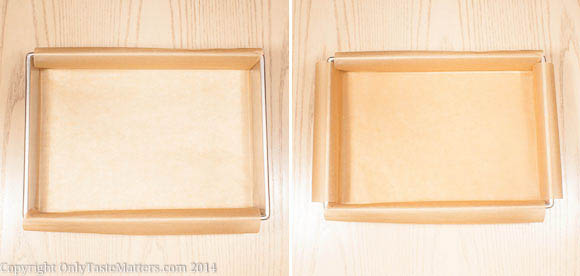 3. In a medium bowl, whisk together the boiling water and cocoa powder and set aside.
4. In a large bowl of an electric mixer fitted with the paddle attachment, combine the sugar, flours, baking soda and salt.
5. Whisk the oil, sour cream, eggs and egg yolks in a large measuring cup or other pourable container.
6. Add the oil mixture to the cocoa and water mixture and slowly whisk to combine.
7. With the mixer on low speed, gradually add the liquid mixture to the dry mixture over 30 seconds. Continue to beat on low speed until combined.
8. Once all the ingredients are combined, scrape down the bowl and turn the mixer up to medium speed for 30 seconds.
Note: You have to be careful not to "over" mix when using wheat flour. If you activate too much gluten, your cake will be tough. However, over mixing is not an issue when you use gluten-free flours. There is no gluten to over activate!
9. Pour the batter into the prepared pan.
10. Place the pan on the center rack and bake for 30 to 35 minutes or until it is well risen and the cake has come away from the sides or the pan. If you press the cake lightly with your finger, it should spring back.
11. Remove the pan from the oven and place it on a cooling rack for 30 minutes. Then remove the cake from the pan to cool completely before frosting, about 1 hour.
For the Chocolate Marshmallow Frosting:
2. In a large bowl of an electric mixer, whisk together the four remaining ingredients.
3. Place the bowl over a saucepan of simmering water. Gently whisk until the sugar is dissolved and then remove it from the heat.
Tips: 1. Make sure the bowl is not touching the water. You only need about an inch of water in the pot. 2. You can check if the sugar has dissolved by sticking your index finger into the mixture and then rubbing the mixture between your thumb and index finger. If it still feels gritty, the sugar has not dissolved. Don't worry you won't burn yourself.
4. With an electric mixer on medium speed, add the cooled chocolate to the sugar mixture gradually with the mixer running. Continue to beat until the frosting is cooled, but not dry.
5. Cover the top and sides of the cake with frosting, swirling it from the center outward.
Copyright 2013 - only taste matters. All rights reserved.