Not sure if I mentioned it yet, but I think everything tastes better with chocolate chips. Everything. Recently my husband and I were at a party and I challenged the other guests to come up with any food that isn't improved by chocolate chips. Of course there was silence because, well, there simply isn't one. However, one girl's eyes lit up and she proudly said "tuna fish." My smartass husband didn't miss a beat and countered "mole sauce."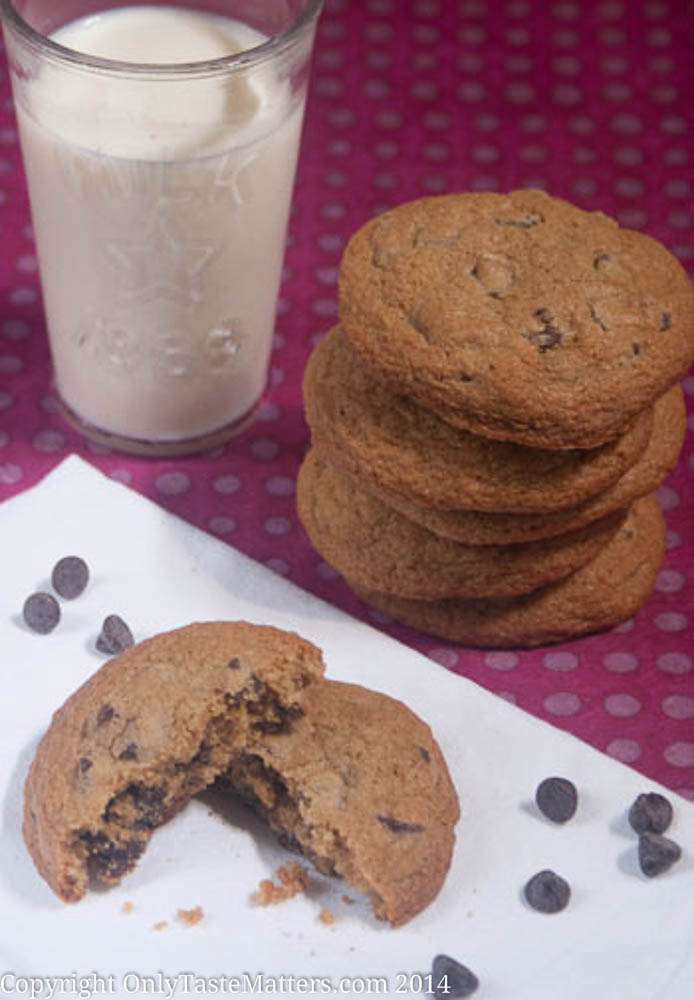 Now I've never heard of mole sauce being used on anything besides chicken and it isn't technically chocolate chips but he gets points for trying to defend his wife. I commended the girl for what was clearly an excellent guess but still maintain even tuna fish is probably better with some bittersweet chocolate chips. I haven't tried it so the jury is still out.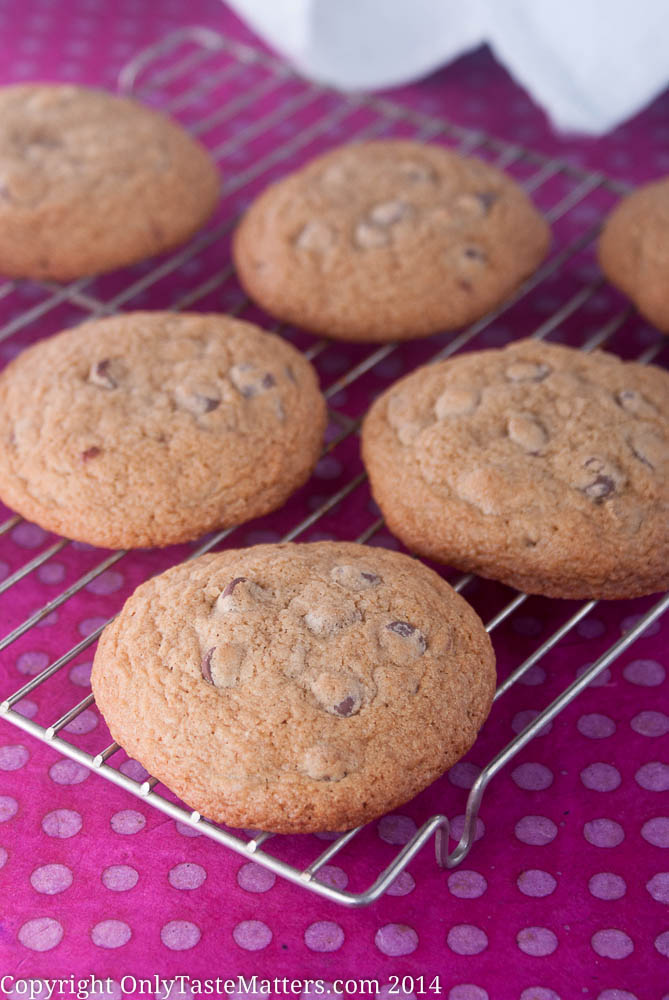 Along the lines of everything is better with chocolate chips, I would like to add that nothing tastes as good as a chocolate chip cookie fresh out of the oven. Still warm and soft with the chocolate still melty. Oh yeah. No matter how strict a diet you are following or how health conscious you want to be, all bets are off once that glorious aroma of fresh cookies fills the room. "I'll just try one," I tell myself. Three cookies later I am fighting to stop myself before I get a stomach ache. So much for willpower. Sigh.
Worth Stealing Chocolate Chip Cookies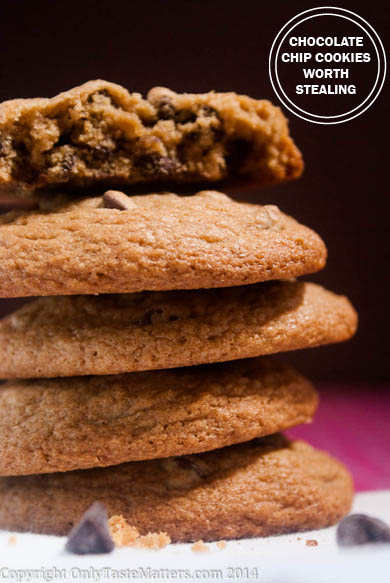 Ingredients
16 tablespoons unsalted butter (2 sticks)
2 ¼ cups brown rice flour
1/4 cup sweet white rice flour
1 teaspoon kosher or sea salt
1/2 teaspoon baking soda
1/4 cup granulated sugar
1 1/4 cups dark brown sugar
1 large egg
1 egg yolk
1 1/2 teaspoons pure vanilla extract
3 tablespoons whole milk
12 ounces semisweet chocolate chips (2 cups)
Instructions
1. Melt the butter in either a saucepan over low heat or a microwave. Once melted, pour into the bowl of a stand mixer or large mixing bowl.
2. In a medium bowl, whisk together the rice flours, salt and baking soda. Set aside.
3. Add both of the sugars to the bowl with the butter and using the paddle attachment, cream together on medium speed for 1 minute.
4. Add the whole egg, egg yolk, milk and vanilla extract and mix until thoroughly combined.
5. Gradually add the flour mixture and mix until thoroughly combined.
7. Chill the dough in the refrigerator for approximately 2 1/2 hours.
8. Preheat the oven to 375 degrees F.
Tip: Remember the oven needs at least 20 minutes to preheat fully in spite of what the read out says.
9. Shape the dough into 2-ounce balls.
Tip: 2 ounces is 1/4 cup so if you don't have a scale you can use a measuring cup. Also ice cream scoops are usually 1/4 cup.
Place the balls on parchment-lined baking sheets, 6 cookies per sheet.
10. Bake for 14 minutes, rotating the pans halfway through for even baking.
11. Remove from the oven and cool the cookies on the sheets for 2 minutes. Move the cookies to a wire rack and cool completely. Store cooled cookies in an airtight container.
Copyright 2013 - only taste matters. All rights reserved.
Variations
Fold in 1 cup chopped nuts with the chocolate chips.

Substitute white chocolate, milk chocolate, peanut butter, mint, cinnamon or butterscotch chips for all or half of the chocolate chips.

Substitute chocolate chunks or M&Ms for the chocolate chips. 1 cup = 6 ounces.